September brings slightly cooler days and that makes us think about hiking. We found a hike we think you'll love!
Shady rail-trail that runs along the Raritan River and through scenic Ken Lockwood Gorge. Details of this hike courtesy of: https://www.njhiking.com/
The multi-use trail (hike/bike/horse) passes woods, farms, backyards, and a few towns from High Bridge in Hunterdon County to Bartley Road in Morris County.
10.4 or 22.6 or 30.2 or turnaround at any point. The entire trail is 15.1 one-way. Wide and level; the surface is packed dirt and gravel. From High Bridge, there is a very slight uphill grade. Basically all shade.
Our two cents:
Easy hiking or biking, as well as trail running, snowshoeing, cross-country skiing. It's a good trail for the little ones to try hiking or biking and it's suitable for strollers.
Really enjoyable ride with a variety of scenery and one of our favorites in Jersey. (D&R Canal is probably our #1 spot just because it has so many route options). You don't need to do the full trail, turning around in Long Valley or Califon is still a solid trip.
There is a very minor uphill grade going from High Bridge towards Bartley so keep that in mind when choosing a starting lot. Enough to feel it slightly but it's certainly not a big elevation change (and not enough to coast the way back, either.)
Street crossings aren't that frequent or too busy. There is a brief section of trail just after Long Valley that is harder than a rail-trail usually is, but it's after a good turnaround spot anyway. Noted below.
Updated: 6/2021 – Re-biked and page revamped, new photos. 5/2020: Page refreshed, not re-biked.
Related: NJ Bike Trails overview page.
---
Columbia Trailhead Parking, Highbridge, NJ. RT 78W to exit 17 for Rt. 31N. Right on Main St (513), right on Bridge St, left on Main, left into the large paved lot – little hard to spot, there are various signs at the end of the driveway.
There are several parking areas along the route to choose from but we always start at the big lot at High Bridge (check the maps for other lots).
---
Restrooms:
Portable toilets all the way at the back of the High Bridge lot. Willow Grove Farm at Rt 513 had a sign that said 'water and restrooms' were available but we didn't check it out.
Portable toilet also along the trail in Long Valley, just after crossing Rt 517/Schooley's Mountain Road (as of 6/2021).
---
Trail Maps/Books:
Follow along on a smartphone with our Columbia Trail Interactive Map and/or use the links above to print maps. The trail is in both Hunterdon and Morris counties so each county park site has a map. Did not notice any paper maps along the trail.
There are also mileage markers but they start over when the county changes.
Appears in Rail-Trails New Jersey & New York as well as older books such as The New Jersey Walk Book and Hiking the Jersey Highlands.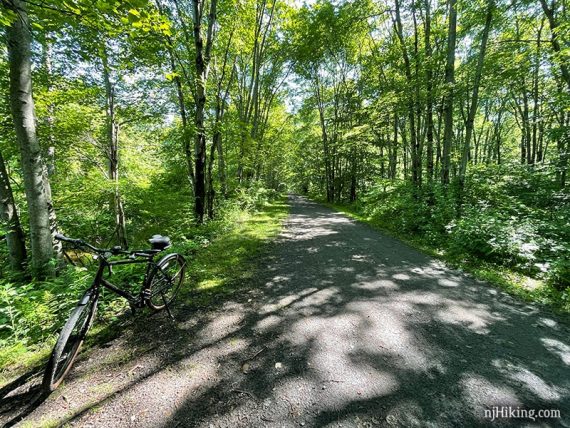 ---
Food:
High Bridge has multiple restaurants and a brewery. At Califon, turn right on Main Street for a cafe. Long Valley has a coffee shop at the road intersection and some picnic tables, or turn right for restaurants and a brewpub.
Reward yourself with ice cream at Polka Dot Cafe near the parking lot entrance or hit Gronsky's Milk House on the way home just outside of the main downtown area.
---
The Details:
0.0 – The Columbia Trail begins directly across from the driveway of the parking lot.
Cross three somewhat busy streets right in the beginning and then go under the Thomas Street bridge. Then it's a while before crossing a street again.
You may notice a few little "gnome homes" tucked into trees and along the trail. They appear on the first part of the trail out of High Bridge.
The surface varies between dirt and crushed stone/gravel.
1.3 – Small bridge over Cokesbury Road with metal fence up the sides.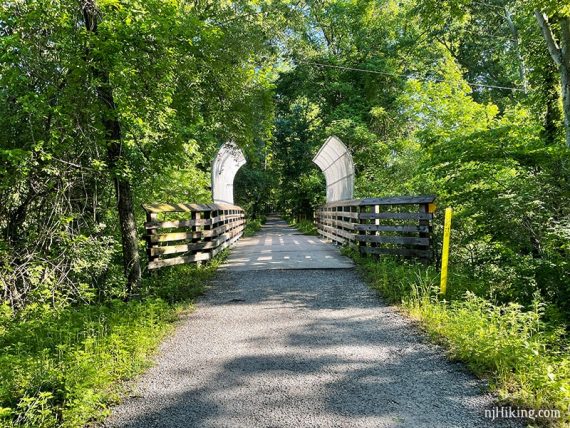 The Columbia Trail runs above Ken Lockwood Gorge for part of the route. The south branch of the Raritan River peeks through the trees in the gorge below the trail.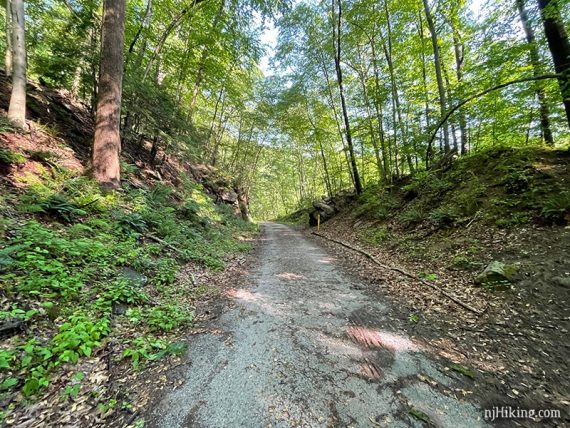 2.7 – Large trestle bridge with tall metal fencing that goes over Ken Lockwood Gorge.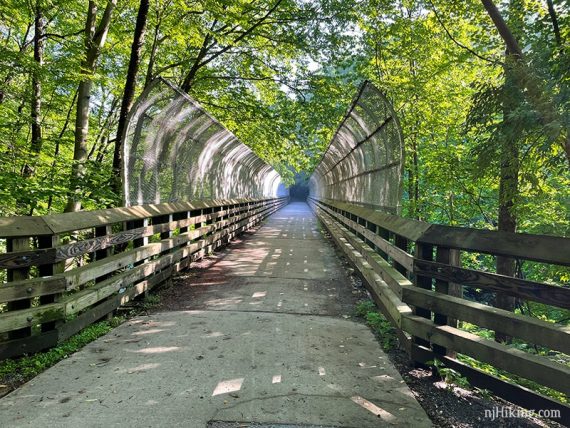 The bridge is high above the river and covered but you can get a look out through the sides.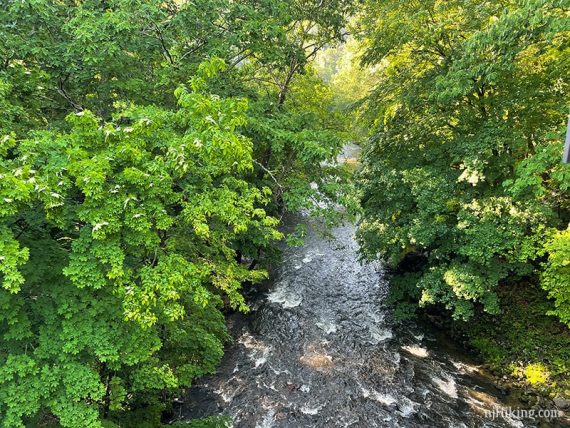 Many road crossings have Columbia Trail signage and gates.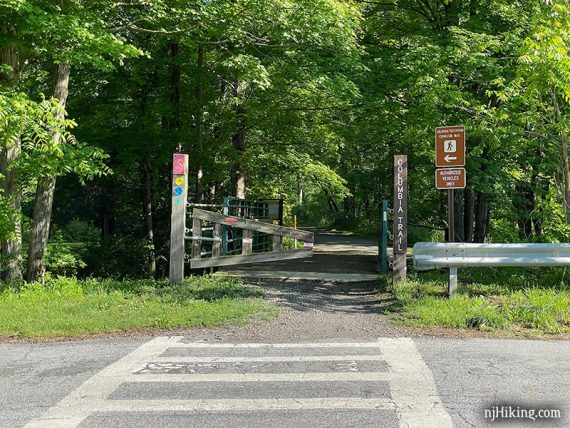 5.2 – The trail briefly merges onto a paved road (Railroad Ave.) near Califon Station.
The building houses a museum run by the Califon Historical Society and is open May through September on the first and third Sunday of each month.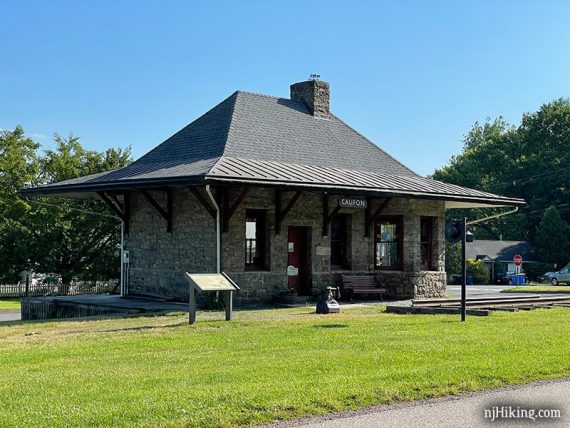 // For a 10.4 mile round trip ride, turn around here. //
Cross a road, continue next to the Califon Fire Co building, then cross a road again and it returns to a gravel rail-trail.
6.3 – The trail very briefly turns to a skinny dirt track along Vernoy Road – or just ride on the road. The wider rail-trail picks up again soon.
Along the way, the trail passes through one of several parking areas.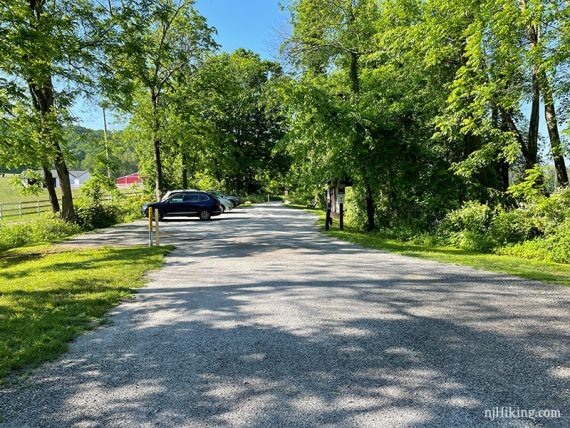 7.3 – Farm building with a silo appears on the left.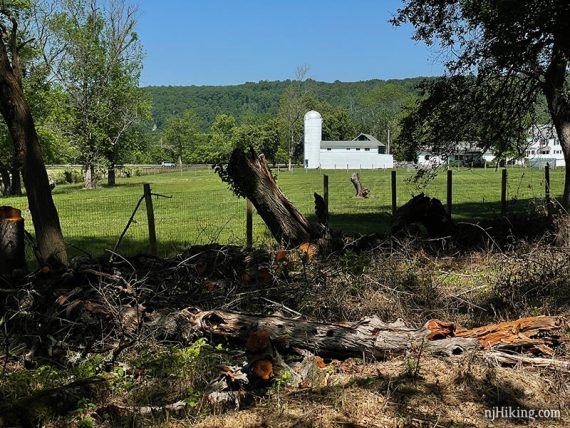 Just after this, travel through a short section with open farmland on either side.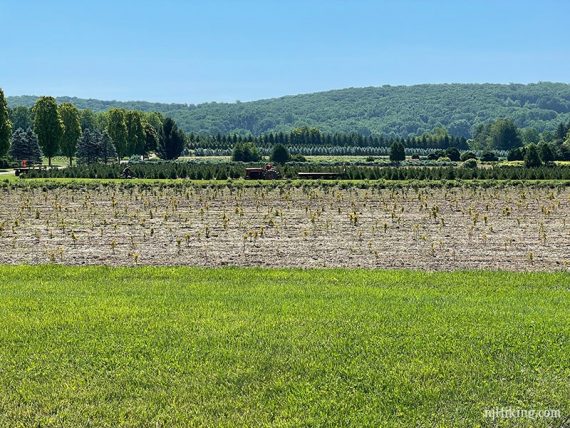 Pass another Columbia Trail post and gate.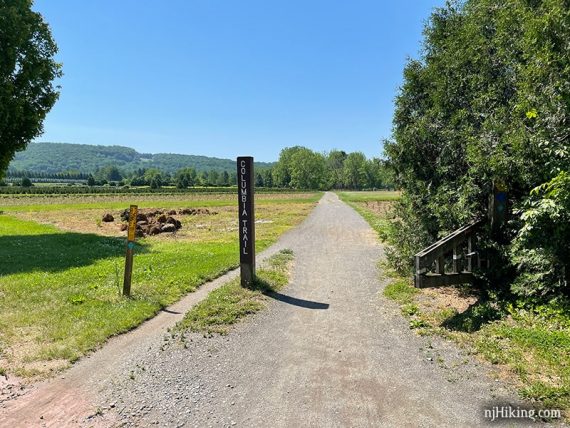 At the street crossing is another farm where horses might be out in the corral (they have Clydesdale horses so you may want to mosey on over for a look).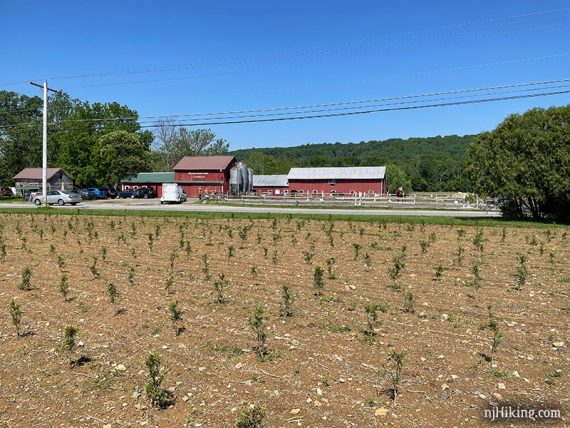 8.3 – Cross a long bridge with river views on each side.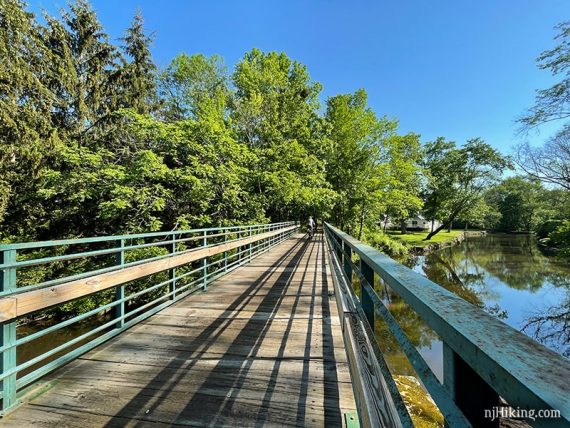 The bridge is over the south branch of the Raritan River.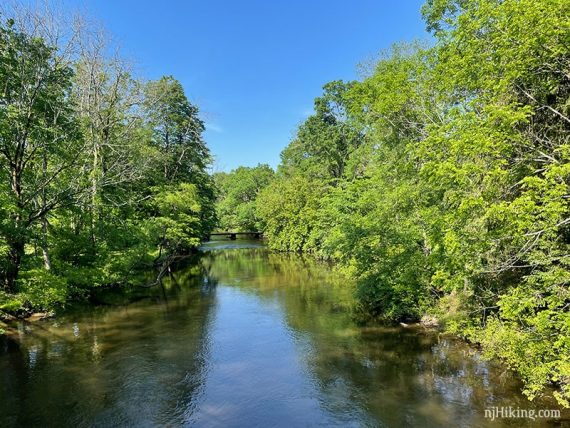 11.3 – Long Valley. After passing through a parking lot and crossing Schooley's Mountain Road/Rt. 517 there are picnic tables and a portable toilet right along the trail.
// For a 22.6 mile round trip ride, turn around here. //
Note: After the next road crossing, Fairview Ave, a brief section (maybe .5 mile) goes around a housing development and an industrial area.
The trail narrows and has a few short hills and blind curves. It's not exactly hard, and many will find it fun, but it's different from the rest of the trail.
12.3 – Sign for Gillette Trail and a bench.
14.7 – Bench facing the river. The latter part of the trail is out of the gorge and the south branch of the Raritan River is along the trail through the trees.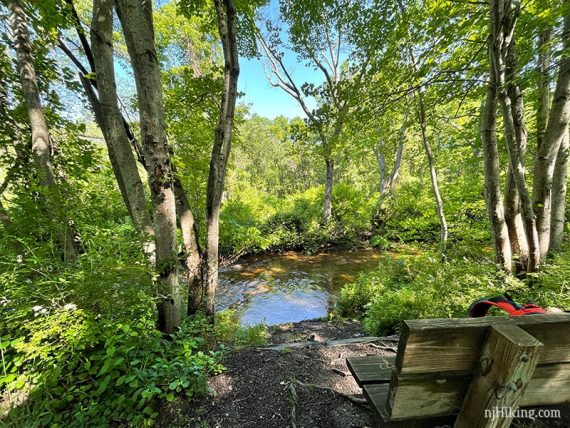 15.1 – Trail ends in Bartley at a small parking area, retrace the route back.
There are a few large rocks at the Bartley lot but we usually hit a bench on the ride back to take a break, like the one passed at 14.7 or 12.3.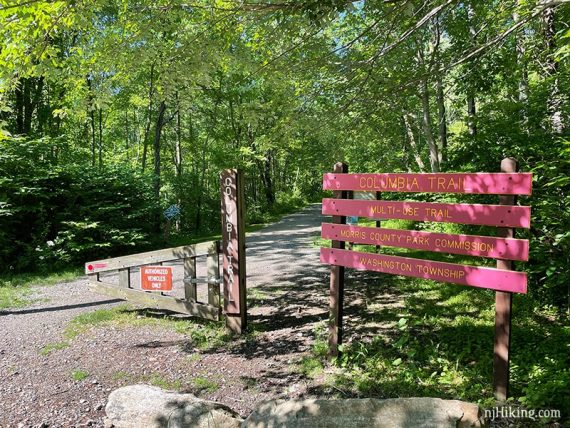 —